Three Questions About Each Bug You Find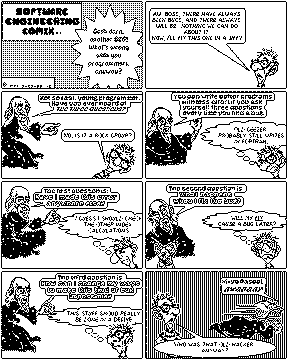 3 Questions...
in cartoon form too!
I really love this timeless Tom Van Vleck article from 1989.
It teaches us to ask ourselves:
Those questions being:
Is this mistake somewhere else also?
What next bug is hidden behind this one?
What should I do to prevent bugs like this?
When I first read these rules, I was foolish enough to think:
'Cute, But Too Obvious! i do this intuitively all the time.'
But watch yourself closely! I've caught myself out on occasion, and maybe you will too.
I'm making an effort to be more explicit about the three questions. Maybe i'll end up fixing related problems at first hint more often than i do now.
Next →
← Previous
My book "Choose Your First Product" is available now.
It gives you 4 easy steps to find and validate a humble product idea.