A handy workflow image for newbie mercurial users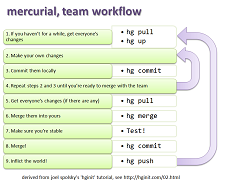 I've been using mercurial lately for my own projects and when collaborating with OJ on a skunkwork project we have underway.
Here's a cheatsheet I built, lifted almost wholly from hginit, to help my get my rhythm in the early days.
As soon as Jeff 'VB forever' Atwood adopts a technology, you know it's gone all mainstream... but just to prove that hg has really jumped the critical-adoption-long-tail-shark-mass... I built the above image with powerpoint. Yes, that powerpoint.
If you've got any improvements or feedback, please comment.
Next →
← Previous
My book "Choose Your First Product" is available now.
It gives you 4 easy steps to find and validate a humble product idea.