Your Next Action is: Download NextAction!

The Top Of Your Mind Is A Very Very Small Place.
And NextAction -- is a Very Very Small application to manage the top of your mind.
It boasts less features than any other self-management tool.
Hence it is more effective.
There is no configuration -- NONE! and not even a save button. Saving and loading happen automatically.
Next action is always on top, and always out of the way. It only has one purpose: to help you track what you are doing right now, and to keep this at the top of your mind.
It's from the team that brought you TimeSnapper and it is free.
Enjoy!
Bugs, help requests, ideas... send em in...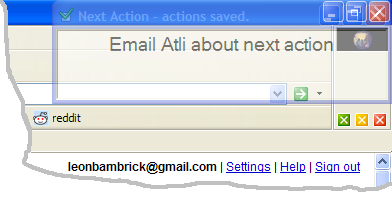 Next →
← Previous
My book "Choose Your First Product" is available now.
It gives you 4 easy steps to find and validate a humble product idea.