Yet Another Outlook Rule
Over-use of the company email by certain employees has led to the need for yet another Outlook rule.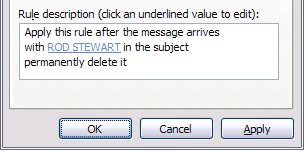 I've got thirty-seven and a half rules like this now.
Next →
← Previous
My book "Choose Your First Product" is available now.
It gives you 4 easy steps to find and validate a humble product idea.