About 'secretGeek'
Wot's it all about then?
The mandate of this website:
Satire and commentary
on dot Net development.
Seeking a small
but devoted audience.
secretGeek contains articles/blog entries from Leon Bambrick, regarding DotNet, Visual Basic .Net, Blogging, Novel writing, ill-humour. Various other things.
It's available via, RSS
The site was previously maintained using SmartJelly, a quick and dirty CMS written with 'traditional' Asp, but was rejuvenated in 2014, using a custom blogging engine written in asp.net MVC. In 2016 it was moved into asp.net core (hosted on linux)
I can be contacted via email to LeonBambrick@Gmail.com
Self portrait: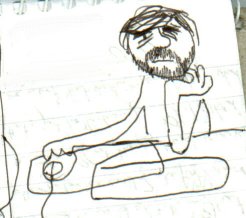 In an effort to convince readers that I am a real person, I have included a photograph of myself.
Look away now if easily frightened by floating heads.

Gloat:
The never-quite-up-to-date resume
Next →
← Previous
My book "Choose Your First Product" is available now.
It gives you 4 easy steps to find and validate a humble product idea.