TimeSnapper hits the local press... and more on Iceland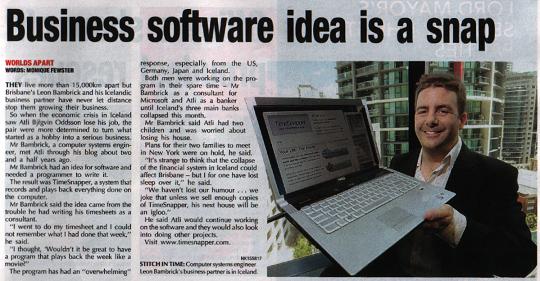 Thanks to an eagle-eyed journalist, there was a great write up about TimeSnapper published this week in Brisbane's main inner-city newspaper "City News".
It was really exciting to be involved in this. The photo shoot was good fun, and luckily for me we were playing a "wear your suit to work" prank that day so I look flasher than I normally do.
The laptop in the photo belongs to Joseph Cooney -- he is probably writing a blog article just now, boasting "My laptop was in the paper this week." Damn show pony.
Whether or not this will lead to a massive influx of new TimeSnapper customers, I can only wait and see. It ought to hit the right demographic, with its inner-city distribution: these desk bound labourers are the perfect target for 'the consultant's best friend'. Fingers crossed, of course.
More on Iceland...
I get most of my news about Iceland from a site called Iceland Review. The site used to be all about the latest upcoming art or fashion shows in Iceland -- but is increasingly about the economic disaster. For example, the following statement:
"32.5 percent of participants, ages 18-75, have considered moving away from Iceland because of the current economic crisis"
This week they raised the local interest rate from 12% to 18%. Ouch!
Atli and his family are holding up very well, I think. With his awesome programming skills I think he's already got a few interesting options on the table.
Next →
← Previous
My book "Choose Your First Product" is available now.
It gives you 4 easy steps to find and validate a humble product idea.