Fun Color-Pickin Background Image Blend Thing
Before i forget -- you need to see the improved Gradient Maker application i fixed last week.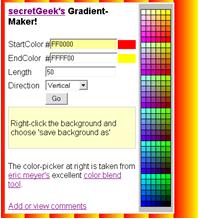 It's got a color picker now, thanks to Eric Meyer (the css guru)
Hence, it's more fun. Fun-of-use, is important, apparently.
I kind of hoped it would get a coupla-hundred del.icio.us recommendations, but it hasn't yet.
An approximation of the GDI+ .net code it uses is stored in a previous entry.
On the topic of GDI+ .net restful webservices for rendering images, check out Shital Shah's technique for rendering equations online. (Be warned about his page transitions... they are frightening ;-) )
Next →
← Previous
My book "Choose Your First Product" is available now.
It gives you 4 easy steps to find and validate a humble product idea.