Mailbox Size Limits: Gotta Love Em!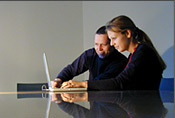 I just emailed a project manager at a company I know, and the email bounced back -- telling me her mailbox no longer existed.
I was surprised -- and assumed it meant that the manager in question had left the company (they do have quite a high turnover at the moment)
Turns out, she'd exceeded her company's ONE GIGABYTE LIMIT on mailbox size, and emails were being rejected in the meantime.
Welcome to 2001 guys! Pity you got here four years too late, and Moore's Law has moved on since.
Here's the equation as far as I can tell:
1 GIG of hard drive space:
$1.
Three hours of the manager's time cleaning up their hard drive space:
$500.
Making it appear to customers as if your key staff have quit:
priceless
Next →
← Previous
My book "Choose Your First Product" is available now.
It gives you 4 easy steps to find and validate a humble product idea.