'The Register' seems to have plagiarised Mary Jo Foley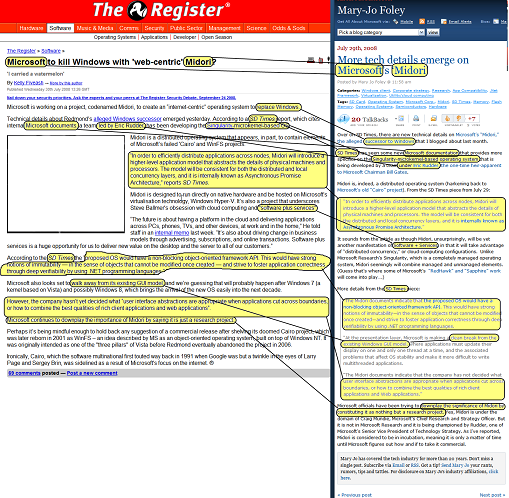 I was researching Microsoft's 'Midori' and 'Singularity' projects -- and noticed that two recent articles i found in the mainstream tech press were almost identical.
The first one was by Mary Jo Foley at ZD net, titled "More tech details emerge on Microsoft's 'Midori'"
The other article was at 'the register' titled "Microsoft to kill Windows with 'web-centric' Midori?" attributed to Kelly Fiveash, and it seemed to be an almost complete copy.
It's not just that both articles reference a particular SD times article (Microsoft's plans for post-Windows OS revealed)-- but they use the exact same sequence of quotes and the same sequence of key words and ideas is presented in both articles.
Here's one little example (that I forgot to highlight in the images).
MJF says:
"Midori is, indeed, a distributed operating system (harkening back to Microsoft's old "Cairo" project)."
While the register says:
"Midori is a distributed operating system that appears, in part, to contain elements of Microsoft's failed 'Cairo' and WinFS projects."
The Cairo reference is not in the article they are both citing -- it's something MJF thought of. So when the register says that this distributed OS "appears" to contain such an elemnt, they would do well to instead say "it appears to Mary Jo Foley" -- since it was she who made the observation. And I think in this case it's a mistaken observation, which makes the intellectual theft more obvious.
Maybe this is just typical in tech journalism -- i've never looked at it this closely before. Probably most journalism is just about recycling each other's work and this is no more blatant than any other case. Still -- pretty sad work.
Next →
← Previous
My book "Choose Your First Product" is available now.
It gives you 4 easy steps to find and validate a humble product idea.