How the Australian Tax Changes Will Affect Your 'Take Home' Pay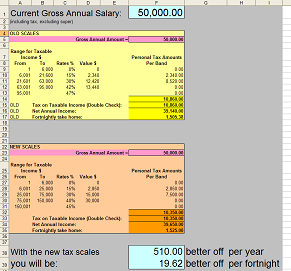 Courtesy of Advantech Software, here's a spreadsheet for working out the affect of the australian tax changes (announced in yesterday's budget) on your wage.
You can expand it to see the details of the calculation. Or leave it collapsed to K.I.S.S.
Thanks to MG and SS.
Download Tax Rates Calculator (zipped up excel file)
Next →
← Previous
My book "Choose Your First Product" is available now.
It gives you 4 easy steps to find and validate a humble product idea.