The Ultimate Agent of WERF Destruction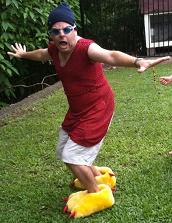 This guy knows it. Do you?.
Joseph Cooney and I were talking about the incredible revenue monster that is Balsamiq, a tiny software company which brought in over a million bucks last year. As such, the conversation soon turned to a lament for the paltry stipend that our own ISV's tend to bring in.
Pretty soon, one of us hit on a terrific winner of an idea, which you will see is far superior to any other possible money making venture, as it brings about exactly the right behaviour in people.
What one needs is a way to get the customer to take the wallet out of the pocket, and the credit card out of the wallet.
These are difficult steps with which potential customers are reluctant to demonstrate sufficient compliance.
Some products -- balsamiq being a great example -- seem to have a tremendous 'wallet-appeal'. After just a minute or two of testing that baby out, people realise this product will help them kick ass, and their WERF falls to almost zero, while their CCED rises to 100%. (WERF: Wallet extraction reluctance factor; CCED: Credit Card Extraction Desire)
So, Joseph and I devised a product of our own that has (I humbly submit) a better WERF curve, and a superior CCED factor than all your balsamiqs. And the time to market has been astounding: I time-boxed the development at 1 bus ride, and pretty much met this criteria.
So, here's the new product, I proudly present:
A big thanks to Mr Crazy Grumpy Smurf for agreeing to be the mascot of this little link out.
Web template from Ginger the Ninja of Open Source Web Design (OSWD).
Real ideas coming soon.
Next →
← Previous
My book "Choose Your First Product" is available now.
It gives you 4 easy steps to find and validate a humble product idea.