My new product, NimbleText, is live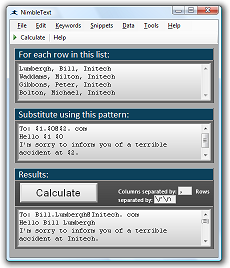 I just released my new product, NimbleText. Technically I guess it's in public beta now. This means you get the opportunity to be one of the cool kids performing beta testing.
NimbleText is a downloadable version of 'the world's simplest code generator.' It's free, and adds a few features to the existing online version. If you register it, it adds more features again.
I'd appreciate any feedback you've got. Maybe you have:
Suggestions for new features
bug reports!
feedback on the website (NimbleText)
questions
comforting words
Feel free to email me: LeonBambrickexclude this bit@exclude this bitgmail.com Next → ← Previous
My book "Choose Your First Product" is available now.
It gives you 4 easy steps to find and validate a humble product idea.