NimbleText 2.0: More Than Twice The Price!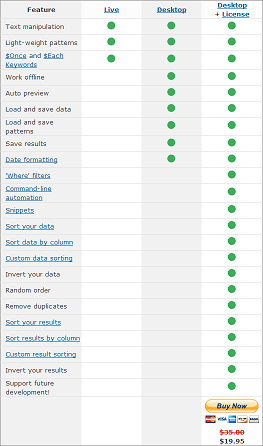 The latest release of NimbleText is a major milestone, took a lot of work, many bus trips.
As a user of the product, I feel it's good now. I don't want to say it's complete -- because I know how big the backlog still is -- but there's a sort of completeness to it. If no more features were added for a while, I think that would be okay.
I added custom sorting features, and auto preview, and more documentation, and a bunch of other stuff.
I even wrote one of those feature checklists you see in all the expensive professional software suites. --->
Now that's pretty bloody serious stuff.
But then I did something really serious:
I more than doubled the price.
Everywhere I looked, people were telling me to put up the price.
This article crossed my desk today: An eBook pricing model that resulted in $100,000 in sales and contains this quote:
I consulted Patrick McKenzie. Can you guess what he said?

"Charge more."
Of course Patrick would say that.
But when I stumbled onto this article, also just today, 'four pricing principles to never forget' -- the following ALL CAPS headline was like a slap across the face:
CHARGE MORE THAN YOU'RE COMFORTABLE WITH
That was it! Enough was enough. I shut the browser! Slam! Opened the html editor! Whoosh! A search, a replace-all, and it was done in less than a minute.
The price went from $9.95 to $19.95. Double! DOUBLE! Plus five cents!
And I don't regret it for a second. At $20 it's still a steal. I'm seriously thinking of going to $50. Who knows where this madness will end? $75? $78.50?
I have unleashed a pricing monster!
---
Further reading:
Product Pricing Primer -- Eric Sink.
Oh, and you'd be wise to get in on TimeSnapper before this pricing madness spreads.
Next →
← Previous
My book "Choose Your First Product" is available now.
It gives you 4 easy steps to find and validate a humble product idea.