TimeSnapper 2 Goes Live!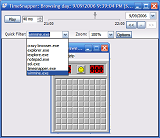 After much work -- and almost a year since we entered the Larkware developer competition, we've reached our next major milestone with TimeSnapper.
TimeSnapper 2.0, the 'Professional Edition' is now available (you can go to TimeSnapper.com, or download directly from here)
The good news is that there's a bunch of new features. The not-so-good news is that the Professional version has a price tag (you do get thirty days to try it out for free). But then, the other good news is that the classic version is still free.
Huh? What's TimeSnapper?
Quick rundown in case you haven't heard of this before: TimeSnapper is a piece of software that runs in the background of your computer, taking screenshots of your computer every few seconds.
It uses these screenshots to put together a kind of journal: a movie you can flick back over to help fill out your timesheets, or to remember what you were doing at a certain point in time.
It's also invaluable for working out why something went wrong, or for recovering information that would otherwise be lost.
So what's new in version 2...
There was a staggering amount of work in getting the details right for this release. We've got new forums, a proper installer (at last!), and we now use a firebird database to help you manage your data.
Here's a rundown of the new features:
Quick Filter
Lets you view only the snapshots you're interested in.
This little feature makes it much faster to translate a day of activity into something you can use to fill out a timesheet. The drop down list contains the name of every program that received focus throughout the day. Pick any one of them, and the timebar will be filtered to only show the snapshots for that program.
Filters
You can use a filter to make sure you only record the programs you want to record.
For example:

Don't record when I'm using MineSweeper
or: only record when I'm using Microsoft Excel
This was a commonly requested feature, and we tried to make it as flexible as possible.
Filters are configured right on the startup screen:
You can have as many filters as you need:
And each filter has its own set of files to include or exclude:
Flags
Ability to add a note to any point in time.
For example: record when a phonecall occurred, or when you switched task.
Use this feature to pinpoint important moments in your day.
When you create a flag, it is added to the timebar, so you can quickly get back to that point in time.
Shortcuts Menu
Hit [Start-Key]+"S" to bring up the TimeSnapper shortcuts menu.
Lets you quickly change mode, without lifting your hands from the keyboard.
Feedback, again with the Feedback!
As always, we (Atli and myself) are after your feedback. Any problems you have with the software, any suggestions, any stray thoughts... either leave a message at the forum -- forums.timesnapper.com/forums, or email us: support at timesnapper.com. (You can also leave a comment below, of course)
Next →
← Previous
My book "Choose Your First Product" is available now.
It gives you 4 easy steps to find and validate a humble product idea.