The Windows 8 Mullet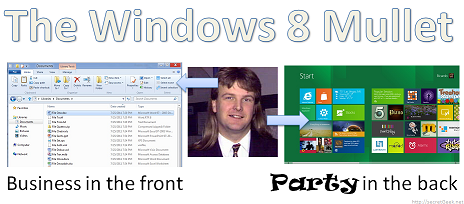 I think i get it now. In Windows 8 you have two modes: metro and classic.
Metro is for exciting responsive new apps that you can use while sitting on a designer couch.
Classic is the Windows of spreadsheets and complex applications that we've used in our day jobs for years.
It's basically a mullet. Business in the front, party in the back.
I'm looking forward to joining the Metro party. I don't know if the business guy is going to host a very good party. But his client list is so long that a lot of great people are bound to be there.
Maybe I'm a little worried it will be like the party that Rick Moranis's character, Louis, is hosting in ghostbusters:

Louis: I'm givin' this whole thing as a promotional expense, that's why I invited clients instead of friends. You havin' a good time, Mark?
[heads across the room, greeting other guests]
It's all going well until a terror dog turns up and terrifies the guests. But I digress.
At first I thought that this metro-fad would only have as much take-up as designing sidebar gadgets in Vista (i.e. approximately none). But the killer features to attract devs is the app store. Having your apps readily available to (potentially) hundreds of millions of people, is a very tempting proposition and bound to attract a lot of developers, possibly including me.
So, does anybody wanna play Parcheesi?
Next →
← Previous
My book "Choose Your First Product" is available now.
It gives you 4 easy steps to find and validate a humble product idea.