TimeSnapper 2.7: Word Clouds reveal your computing lifestyle!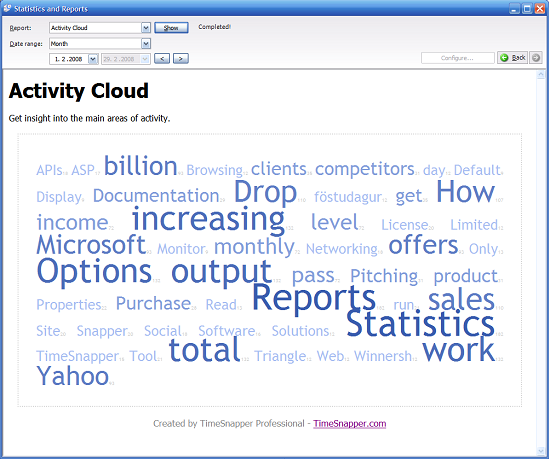 This is an awesome update to TimeSnapper, entirely thanks to Atli, my co-conspirator.
This new report, Activity Cloud, analyses the title text of all the applications you've used and gives an immediate, high impact view into what the hell you've been doing with your life lately.
It's clever enough to avoid a bunch of common words/phrases that would otherwise muddy the picture.
Please give it a go. Download timesnapper (if you've tried it previously, this new version will renew your 30 day trial).
By the way, we always renew your trial with every new version. If you're a serial software trialler (like me) we don't want to punish you. We want to welcome you. And maybe get some feedback.
As always the release notes are available online but also, we (and by 'we' i mean 'Atli') have added an RSS feed so you can subscribe to learn about updates: Point your RSS aggregator here.
This Word Cloud feature also, somehow reminds me of Kate Bush's embarrasingly awesome Cloud Busting filmclip from my 80's toddlerhood.
Activity Cloud is available by right-clicking on any screen and selecting "Reports" (or "Go to > Reports")
As always I have to beg you: bring the feedback! We live for feedback! (Anonymous feedback welcome too.) We act on so much of it, that we're pretty much your submissive slave, ever-willing to do thy bidding.
So, don't hold back in the suggestions department. (And purchasing a license is considered nice as well)
Next →
← Previous
My book "Choose Your First Product" is available now.
It gives you 4 easy steps to find and validate a humble product idea.