Publishing on Amazon: Lakes Creek Adventures
I turned my Dad's handwritten memoirs into an actual paperback book, available from Amazon (and on Kindle) under the title "Lakes Creek Adventures".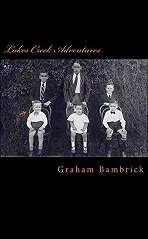 See 'Lakes Creek Adventures' (at Amazon)
And you can do the same. Need advice or assistance? Ask me anything in the comments or by email to leonbambrick at gmail. (Seriously, you're welcome.)
The book covers just the years of World War II wherein my Dad, a sandy-haired kid aged 6-12, was raised in a pub (a hotel, a drinking establishment) in Rockhampton (Queensland, Australia) in a large family. During the last half of the war, Rockhampton expected to be attacked by Japanese bombs at any moment. The population of Rockhampton was doubled with an influx of 42,000 American soldiers. It was a surreal time to grow up, and full of adventures.

Making the book 'print ready' was an educational exercise. After a bit of research, I decided to use CreateSpace (an Amazon company) and mostly followed this guide: A Step-by-Step Guide to Book Publishing with Createspace. I've had published authors look at the product and be surprised at the level of professionalism. It could be better, but it's far from terrible and my dad was very happy with the result.
If you get the chance to do the same, I heartily recommend it.
Next →
← Previous
My book "Choose Your First Product" is available now.
It gives you 4 easy steps to find and validate a humble product idea.