LINQ love
I don't think I've ever seen an article rate so well at MSDN.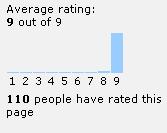 See The LINQ Project -- .NET Language Integrated Query.
Check out 101 LINQ samples, while you're at it.
Next →
← Previous
My book "Choose Your First Product" is available now.
It gives you 4 easy steps to find and validate a humble product idea.