The Book Is Ready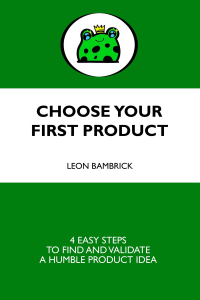 Here's the thing. I wrote a book. It's out now. And you can get it here:
Get "Choose Your First Product"
This charming little tome, "Choose Your First Product," is for any first-time product creator who wants to find a product idea that they can sell with confidence.
There's a tragic pattern that I've seen too many times:
I've watched people around me as they make their first product. They find an idea they love, or a problem that intrigues them. They pour everything into it. They code in isolation. They delay shipping, again and again as they add features, or polish existing features. If they ever ship, which they almost never do, the product is full of beautiful code. Yet it can't find a single customer. Or very few.
And they're supposed to "pivot" at this point. But that's impossible. They're demoralized, for starters, and second, they have no meaningful feedback on which to pivot. They've failed completely. Defeated, they declare "I was just no good at marketing." And give up.
They think the problem happened after launch. They didn't hustle hard enough. They didn't choose the right font on their landing page. (Maybe they can A/B their way to success?) They don't realize they were on the wrong track before they even fired up the IDE.
This book is a practical remedy to that problem. How do you start with something people will pay for? How do you start with something that will be easy to sell?
I've boiled it down to a four-step plan, the T.O.A.D. It's a framework. Of course it is. I walk you through the TOAD, this four-step framework, showing how easy it can be to find an idea that will help real customers.
Because I like to overdo things, I made it available in four formats:
If you want to make a humble product that will help real customers, then it's possible this book will be useful. No pressure though.

Next →
← Previous
My book "Choose Your First Product" is available now.
It gives you 4 easy steps to find and validate a humble product idea.