Refactoring With Whidbey
According to Microsoft's Paul Vick, Refactoring support in VB.net will differ from that in C#. Terminology and structure of available features will be simplified to cater for the less rigorous intellect of the VB developer.
I cannot confirm that this image is legitimate. But it is reputedly the first screen shot of the context menu available to VB programmers in the Whidbey IDE.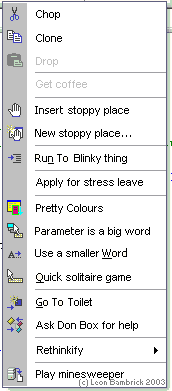 Related articles:
The complete software Lifecycle
Defensive Programming
Next →
← Previous
My book "Choose Your First Product" is available now.
It gives you 4 easy steps to find and validate a humble product idea.